wiki.Alumni.NET - Your Location Information Resource
Category:Asia/Philippines/Metro Manila/Makati City/Land Rover Club Of The Philippines/
From wiki.Alumni.NET
Land Rover Club of the Philippines

Suppliers/Services
Land Rover Club of the Philippines Directory of Suppliers / Services
1. 5 R AGRO INDUSTRIAL CORPORATION, 334 E. Miranda Street, Paso de Blas, Valenzuela City; Telephone: +632 292-8418; 292-6010; 292-5942; Fax: 292-59-92; Email: v5r-agro@i-manila.com.ph; owned by Porfirio L. Rodriguez and Raul L. Rodriguez. They have good used Series parts and service Land Rovers.
2. ADDSPEED AUTOWORKS, Saint Joseph Street corner CRM Avenue, BF Almanza, Las Pinas City; Telephone: +632 8004945, 9962258; Cell: +63917-8218356; Email: addspeedautoworks@yahoo.com; owned by Aladino "Ladi" B. Chica. They service Land Rovers, including mechanical and minor electrical work.
3. AUTOMARINE HANDLERS, INC., 1 Maginhawa Street. UP Village Diliman, Quezon City; Telephone: +632 9250570; Tel / Fax: +632 4361029; Email: automarinehandlers@yahoo.com; owned by Ernie Santos and Eric Narciso. They supply Land Rover parts and service Land Rovers and Range Rovers. They use the latest diagnostic technology.
4. B MOTOR WORKS & OFF ROAD CUSTOM FABRICATION, 47 Gen. Luna Street, Banaba, San Mateo, Rizal; Telephone: +632 5050907; Cell: +63928 707 0747; Email: eliassantos109@yahoo.com; owned by Elias Santos. They do Land Rover restoration and repair; 4x4 custom work, fabrication and accessories such as - roof racks, rock sliders, nudge bars and winch mounts; 4x4 under chassis modifications, body and suspension lifts; and 4x4 maintenance and repairs.
5. BERT ILAGAN, Miami Street, Cubao, Quezon City; Telephone +632 9120545; Cell +63908 882 5102. He imports Land Rover parts and accessories.
6. BM ROVERPARTS SERVITEK, CO., Dona P. Ramos Street, Angliongto Sr., Davao City; Telephone +63 82-302-5467, +63 82-305-8552; Email: benbata1@yahoo.com; owned by Jun Bata and Boyet Magnaye. Jun Bata, cellphone +63 932 388 4693; Boyet Magnaye, cellphone +63 917 752 9350. They repair, service and maintain Land Rovers and Range Rovers vehicles.
7. BRITPART PHILIPPINES, INC., Unit 103 Tonbridge Commercial, Inc., OPVI Centre, 2295 Chino Roces Avenue (formerly Pasong Tamo Extension), 1231 Makati City; Telephone +632 777 3039, +632 776 7258, +632 776 9575; Email: yuanongpin@britpartph.com. Yuan Ongpin is the Sales Director; Cell +63917 500 5355. They are the Philippine dealer of Britpart UK [www.britpart.com], an independent wholesaler of parts and accessories for Land Rover vehicles.
8. EUGENE DE JESUS; 1561 Burbank Street, Brookside Hills, 1900 Cainta, Rizal; +639156158878; eugenedj@gmail.com . He imports Land Rover parts and accessories.
9. EUROSPEC AUTO SERVICE, Pilar Development Compound, Warehouse 3 (Unit 2), Pilar Road, Barangay Almanza, 1750 Las Pinas; Cell: +632 932-855-0055; owned by Fritz Juan; They for automotive repair and service specializing in Land Rover, Jaguar, BMW and Mercedes Benz.
10. LAND ROVER – ALL BRITISH CARS, 1008 EDSA Greenhills, San Juan, Metro Manila; Telephone: +632 784 5003; Email: customercare@allbritishcars.com.ph; Website: www.landrover.ph They are the exclusive distributor of Land Rover vehicles in the Philippines. They supply Land Rover parts and service Land Rovers and Range Rovers.
11. LR PHILS MOTORS, INC., Service Centre: 3904 Quingua Street, Makati City; Telephone: +632 881- 7252. Showroom: 32nd and 4th Crescent Park West, Bonifacio Global City, Taguig City. Telephone: +632 897-8888. They supply Land Rover parts and service Land Rovers and Range Rovers.
12. MANTECH, 279 Oranbo Drive, Pasig City, Telephone: +632 584-7298; owned by Joel Buse. They service and repair all major European makes; dealer of Redline Oils, Mobil, Liqui-Moly, Gulf oil, Old Man Emu shocks and ARB products; metal works and fabrication.
13. MARVIN ROXAS, Saint Anthony Subdivision, Cainta, Rizal; Telephone: +632 2188985; Cell: +63917 6973655; Email: bluemrvn71@yahoo.com; He does Land Rover repairs, custom work, fabrication and accessories such as - roof racks, rock sliders, nudge bars and winch mounts.
14. PAUL M. JAVIER, Avocado Street, Sampaloc, Tanay, Rizal; Cell: +639274350556; Email: diff_lock@yahoo.com . He does Land Rover repairs, including repair, replace, rebuild of engines, manual transmissions, differentials, steering, suspension, radiator, cooling systems, brakes; electrical work; repair of electric winch and starters.
15. PROJECT ARROW 4X4 OUTFITTERS, Cervantes Road, Bormaheco Compound, Km17 West Service Road, Marcelo Green, Parañaque; Email: info.projarrow4x4@yahoo.com; Cell: +63 908 8600448 / +63 932 8770448; owned by Tito Arbatin. They are a "one stop shop for all of your Land Rover part and accessories needs"; they do Land Rover restoration; a stockist and approved fitting centre; they sell and install Land Rover accessories and specialist vehicle equipment, suspension, protection, recovery.
16. RANGELAND AUTO REPAIR AND RESTORATION, 2 Martilyo Street, Midtown, San Roque, Marikina; Tel/Fax +632 7538378; owned by Bobby E. Jose. They supply Land Rover parts and service Land Rovers and Range Rovers.
17. ROVER PARTS SALES & SERVICE CO. INC., 120 Visayas Avenue, Culiat, Quezon City; Telephone: +632 9245972; Tel/Fax +632 9245973, +632 9282208; Email: roverparts_ph@yahoo.com; owned by Joe Garcia, Manny Garcia and Lizette Garcia. They import and supply spare parts for Land Rover, Range Rover, Mini Cooper, and Massey Ferguson. They repair, service and maintain Land Rovers and Range Rovers vehicles, from Series II, Series III, Defender, Discovery, Freelander and Range Rover.
18. RON PASCUAL, Bulacan, Bulacan; Cell: +63908 810 9532; Email: rovrnut@gmail.com The distributor of genuine Land Rover Parts and Accessories from Rovers North of Vermont, USA for Series Vehicles, Defender, and Range Rover Classic. Restoration, repair of aluminum body parts; fabrication of new aluminum body panels for Series and Defender; engine conversions; build new chassis; locally fabricated steel products: bullbar winch bumpers, roll cages corner guards, skid plates, receiver hitch, recovery points, aluminum camper trailers, with rover wheel bolt pattern; aluminum dormobile camping top for Series and Defender and car trailers with electric brakes.
19. THIRD AGULTO, Block 5, Lot 7, Molave Street, Dacon Homes, Kasibulan Village Cainta Rizal; Telephone: +632-3412009, Cell: +639228676373; Email: third.agulto@gmail.com. He is a dealer of Rancho, Ironman 4x4, Hella, Dunlop, Yokohama, Maxxis and other tire brands.
Pictures & Videos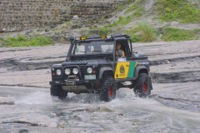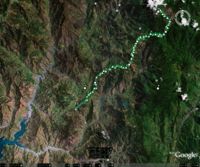 Club Meetings
4x4 Races

2001-07-21 3rd leg of the Philippine Elimination Series for the Rainforest Challenge ("RFC") [5]

Hi-Peak, Zambales
Mt. Pinatubo
Tanay
Mt. Pulag
Car Shows
Other Events
Maintenance Tips
Defender

Corroded hood and side-door fasteners

All Defenders suffer from corroded hood and side-door fasteners. The zinc-plated factory fasteners are just not up to resisting corrosion after years of exposure to the elements. These fasteners are unsightly, corrode in place and make maintenance more difficult, and also stain bodywork. Eliminate the corroded bolt heads and bodywork stains by replacing your Defender 90's factory hood and door fasteners with a MUD-UK Stainless Bolt Set. The MUD-UK Stainless Bolt Set its all 90, 110, 130, Station Wagon, Double Cab, and NAS Defenders, but the set is complete only for two-door Defenders. Each MUD-UK Stainless Fastener Set is made up of A2-grade stainless steel fasteners that will not corrode and will not stain the bodywork. [24]

Clutch pedal, master and slave cylinders

As per LR Publication No. LDASCEEN97, it is recommended that for all Defender95/96/97MY - All Models:

1. At 40,000 km (24k miles) intervals or every 2 years whichever is earlier, the hydraulic brake/clutch fluid should be completely renewed.
2. At 80,000 km (48k miles) intervals or every four years whichever is earlier, all hydraulic brake/clutch fluid seals, brake servo filter and flexible hoses should be renewed.

Whenever you drain your fluids, make it a point to replace all rubber kits as well.

Engine Smoke

If its a black cloud or puff upon starting, the D110 300Tdi engine is normal. Its not caused by your engine, but the poor quality diesel fuel locally available (barely Tier IV; versus the Tier I or II in europe or north america). Most of the 300Tdi engines have the same probem. If its constantly smoking, then it must be something to do with the air cleaner element, the fuel filter, sedimenter, EGR valve (if any), engine timing, injection pump, etc. .
During change oil have the following checked/cleaned

1) check timing/valve clearances
2) have the intercooler cleaned
3) have engine breather cleaned
4) have exhaust pipe cleaned

If all above fails, it would be probably somewhere else ie injectors / injection pump. Also, there was a thread on the list sometime ago about diesel fuels and i think shell was the one considered the cleanest so far.
At 75KM, maybe there is need to look at the required service interval for the fuel injection pump. Is it also possible that your engine oil level is much on the high side mark. A little bit of "too high engine oil level" in the oil sump has propensity to get past the piston rings (assuming same ring and engine conditions)and result into more smoke in the exhaust.
I asked a exhaust maker to weld a 1inch diameter X 3inch lenght galvanized tube with screwable cap(the one used in plumbing) on the exhaust pipe, under the manifold just when it bends down the lowest part. Having installed that you can now fill your whole exhaust system with soapy water. Close the end part using plastic wrap and tie with rubber band or something. After an hour or more( some do it overnight) open the end and run the engine until all of the water comes out. It will come out messy with really black water so you may need to prepare something to catch it. You can run fresh water from the hose while the engine is running until you can see clear water coming out from the tail pipe end. For the soapy water I think the stronger the better. I use Joy(brand) liquid soap with laundry powder. You may have to do some invention to help you if your going to do this from time to time. I do it once every 2 months. I bought a plastic funnel( bigger is better) and connect a hose, maybe 3 feet lenght and from the engine bay run the hose down to the tube opening. This will help you pour the soapy water because for the 110 it might need 3 gallons of it. Dont forget to close the tube cap. Some say this can destroy the internals of the muffler/silencer but Id rather than being flagged down for smoke belching.
I have had my TDi's timing fine tuned at Rover Parts and Victor the mechanic does a good job. You can actually notice more smoke and no smoke from the exhaust as the timing is set and reset. However there's a trade-off. More smoke means less noisy engine and less smoke means noisier engine.

Clutch Use and Maintenance

Soft clutch is Borg & Beck clutch disc. Original clutch is Valeo.
Lesson: that clutch pedal in no-play position should have been checked early on, as this was not the result of a simple "comfort" setting but was symptomatic of a larger problem down below.
Lesson: clutch-riding (perhaps the former user was guilty of this; I am, sometimes) is a very expensive bad habit.
Why the scouring? Ladi thinks this is due to mixing up different types of clutch fluid. Manny G., to whose RR this also happened, says that the clutch fluid probably has a corrosive effect that is supported by lack of wear; a clear case of "if you don't use it, you'll lose it."
Corollary lesson: Another defender's clutch, also replaced by Ladi, manifested another bad driving habit. The clutch disk's outer perimeter, the 2-in wide circumference to which the fiber clutch disk is bonded, was starting to get torn out of the central part of the plate, as the metal parts in between the slots were exhibiting cracks. Analysis is that the driver was almost always releasing the clutch too suddenly, placing too much shearing stress on that part of the plate.
The Defender Workshop Manual provides the following key measurements:

1) edge of the clutch pedal to the floor of the footwell, without mat -- 140mm;
2) pushrod freeplay, between the pushrod and master cylinder -- 1.5mm
3) free movement of the clutch pedal at the pad -- 6mm.

If done to spec, the clutch pedal is slightly lower than the brake pedal.
Classifieds

For listings, visit [25].
Links
Weather and Wind Prediction
Defender
Important tips in Filling-up Gas
Fill up your car or truck in the morning when the temperature is still cool. Remember that all service stations have their storage tanks buried below ground; and the colder the ground, the denser the gasoline. When it gets warmer gasoline expands, so if you're filling up in the afternoon or in the evening, what should be a gallon is not exactly a gallon. In the petroleum business, the specific gravity and temperature of the fuel (gasoline, diesel, jet fuel, ethanol and other petroleum products) are significant. Every truckload that we load is temperature- compensated so that the indicated gallonage is actually the amount pumped. A one-degree rise in temperature is a big deal for businesses, but service stations don't have temperature compensation at their pumps.
If a tanker truck is filling the station's tank at the time you want to buy gas, do not fill up; most likely dirt and sludge in the tank is being stirred up when gas is being delivered, and you might be transferring that dirt from the bottom of their tank into your car's tank.
Fill up when your gas tank is half-full (or half-empty), because the more gas you have in your tank the less air there is and gasoline evaporates rapidly, especially when it's warm. (Gasoline storage tanks have an internal floating 'roof' membrane to act as a barrier between the gas and the atmosphere, thereby minimizing evaporation. )
If you look at the trigger you'll see that it has three delivery settings: slow, medium and high. When you're filling up do not squeeze the trigger of the nozzle to the high setting. You should be pumping at the slow setting, thereby minimizing vapors created while you are pumping. Hoses at the pump are corrugated; the corrugations act as a return path for vapor recovery from gas that already has been metered. If you are pumping at the high setting, the agitated gasoline contains more vapor, which is being sucked back into the underground tank, so you're getting less gas for your money. Hope this will help ease your 'pain at the pump'
Gallery
Pages in category "Asia/Philippines/Metro Manila/Makati City/Land Rover Club Of The Philippines/"
The following 2 pages are in this category, out of 2 total.
A