wiki.Alumni.NET - Your Location Information Resource
Category:Asia/Philippines/Metro Manila/Makati City/Rockwell Center/
From wiki.Alumni.NET
(Difference between revisions)
Line 2:
Line 2:

== Rockwell Center ==

== Rockwell Center ==

[[Image:Rockwell_Center.jpg|right|250px|thumb|Rockwell Center<ref name=puketza>[http://davidpuketza.com/Philippines/ David Puketza]. Accessed November 2008.</ref>]]

[[Image:Rockwell_Center.jpg|right|250px|thumb|Rockwell Center<ref name=puketza>[http://davidpuketza.com/Philippines/ David Puketza]. Accessed November 2008.</ref>]]

-

[[Image:Tomacruz-2009-02-17-14-05-10.jpg|right|250px|thumb|Navigate Around Rockwell Center With Your Iphone Using [[Wikimap]]]]

-

[[Image:bnsp_logo.gif||right|thumb|Find Rockwell Condominiums in [http://www.buyandsellplus.com/All-Sections/keyword/rockwell BuyAndSellPlus.COM]]]

The Rockwell Center is an upscale mixed-use 15.5-hectare project in Makati City, Philippines. It is a project of the Rockwell Land Corporation (established 1995), which is owned by the influential Lopez family. It sits on the site of a former thermal plant, closed in 1994, which was operated by Lopez-owned MERALCO (the project is named for James Chapman Rockwell, the first president of MERALCO). Construction began in 1998. Its centerpiece Power Plant Mall opened in December 2000.<ref name=wikipedia>[http://en.wikipedia.org/wiki/Rockwell_Center Rockwell Center] Wikipedia.ORG. Accessed November 2008.</ref>

The Rockwell Center is an upscale mixed-use 15.5-hectare project in Makati City, Philippines. It is a project of the Rockwell Land Corporation (established 1995), which is owned by the influential Lopez family. It sits on the site of a former thermal plant, closed in 1994, which was operated by Lopez-owned MERALCO (the project is named for James Chapman Rockwell, the first president of MERALCO). Construction began in 1998. Its centerpiece Power Plant Mall opened in December 2000.<ref name=wikipedia>[http://en.wikipedia.org/wiki/Rockwell_Center Rockwell Center] Wikipedia.ORG. Accessed November 2008.</ref>

Line 16:
Line 14:

<references />

<references />

[[Category:Asia/Philippines/Metro_Manila/Makati_City/]]

[[Category:Asia/Philippines/Metro_Manila/Makati_City/]]

-

==Gallery==

==Gallery==
---
Revision as of 05:42, 12 September 2017
Coordinates: 14°33′51″N 121°02′12″E 14.564057, 121.036731
Rockwell Center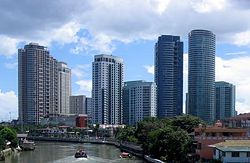 The Rockwell Center is an upscale mixed-use 15.5-hectare project in Makati City, Philippines. It is a project of the Rockwell Land Corporation (established 1995), which is owned by the influential Lopez family. It sits on the site of a former thermal plant, closed in 1994, which was operated by Lopez-owned MERALCO (the project is named for James Chapman Rockwell, the first president of MERALCO). Construction began in 1998. Its centerpiece Power Plant Mall opened in December 2000.[1]
Features of the Rockwell Center include high-rise office buildings, condominiums, a school, and a shopping mall. Among the plans for the area is the Lopez Centre, proposed to have a height of over 1000 feet, which would make it the country's tallest building.[1]
Rockwell Center is equipped with its own generator and obtains 70% of its water from a deep well. The remaining water needs is supplied by Manila Water.
External Links
References
Gallery
Subcategories
This category has the following 7 subcategories, out of 7 total.
Pages in category "Asia/Philippines/Metro Manila/Makati City/Rockwell Center/"
The following 23 pages are in this category, out of 23 total.