wiki.Alumni.NET - Your Location Information Resource
Category:Asia/Philippines/Metro Manila/Makati City/Sunette Tower/
From wiki.Alumni.NET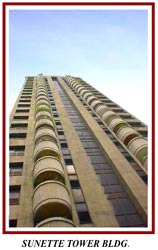 Coordinates: 14°33′49.4″N 121°1′46.1″E 14.563722, 121.029472
Sunette Tower
Makati City
Location & Contact Information

Address, Directions, & Map:

Makati Avenue near corner Durban Street, Makati City, Metro Manila, Philippines

GPS Coordinates
Telephone Numbers

Overview
Visitors
Positive Feedback & Recommendations

Rooms
Facilities
Food
Service
Location
Nearby Restaurant Recommendations
Other Nearby Attractions
Picture Links
Negative Feedback

This wiki page is not for writing negative feedbacks about the the establishment. Please use other websites to voice your negative experience.
Staff
Prospective Employees
Current Employees
Former Employees (Alumni)
External Links
Gallery
Pages in category "Asia/Philippines/Metro Manila/Makati City/Sunette Tower/"
The following 3 pages are in this category, out of 3 total.
A