wiki.Alumni.NET - Your Location Information Resource
Category:Asia/Philippines/Cavite/Cavite City/
From wiki.Alumni.NET
Coordinates: 14°28′52″N 120°53′56″E 14.480974, 120.898919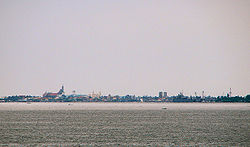 Cavite City
The City of Cavite (Chavacano: Ciudad de Cavite) is a fourth class city in the province of Cavite, Philippines. The city occupies a hook shaped peninsula jutting out into Manila Bay. Cavite City used to be the capital of the province. The historic island of Corregidor and the adjacent islands and detached rocks of Caballo, Carabao, El Fraile and La Monja found at the mouth of Manila Bay are part of the city's territorial jurisdiction. The city lies 35 kilometers southwest from Manila by road. It borders the municipality of Noveleta to the south. The peninsula encloses Bacoor Bay to the southeast and Cañacao Bay to the northeast, both small parts of Manila Bay. The city proper is divided into five districts: Dalahican, Santa Cruz, Caridad, San Antonio, and San Roque. These districts are further subdivided into eight zones and a total of 84 barangays. The Sangley Point Naval Base is part of the city and occupies the northernmost portion of the peninsula. This used to be an American military naval base and has since been converted into a special Philippine military base.
Hotels & Resorts
Restaurants
Spas
Shopping Centers
Places of Worship
Other Attractions
Articles
Related Links
References
Gallery
Articles

Pages in category "Asia/Philippines/Cavite/Cavite City/"
The following 11 pages are in this category, out of 11 total.